TIA's 2016-2020 ICT Market Review and Forecast
TIA's 2016-2020 ICT Market Review & Forecast

It's Planning Season for 2017
, Make Sure You Start With the Right Data
With double digit growth spanning new technologies such as Virtualization, IoT and Data Center investments over the next five years, you need the best sourced data available to make the right decisions for your company.  The newly redesigned ICT Market Review and Forecast helps you identify where the growth is happening and why.  This innovation segments technology by growth behavior ranging from: Pacesetting Markets, Steady State  Markets, Turnarounds and Legacy Technologies and Services.
Pacesetting markets will increase at a 13.7% CAGR from 2015-2020.  Led by IoT and Network Virtualization both acheiving more than 30% CAGR.

Order the current release of the ICT Market Review and Forecast today and start planning for tomorrow!

COST
TIA Members: $700 (Individual), $1400 (Multi-user license)
Non-Members: $1800 (Individual), $7,500 (Multi-user license)
For information contact Florence Sumaray, 703.907.7471

Here's the wealth of information that the Market Review and Forecast covers:
Pacesetters – Rapidly growing markets
Business Ethernet
Cloud Computing Services
Cybersecurity
Distributed Antenna Systems
Gigabit Ethernet servers
Health IT
IoT
Intelligent Transportations Systems
IP VPNs
Wi-Fi/ Small Cells
Software Defined Networks/Network Functions Virtualization
Robotics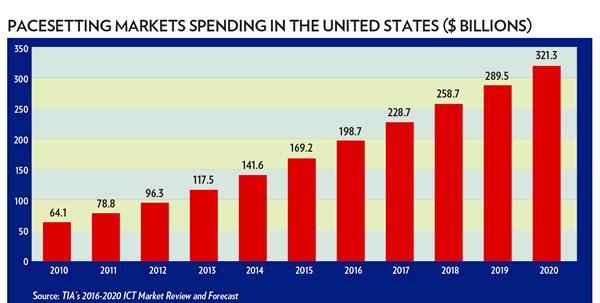 Turnarounds – Markets changing direction/accelerating/decelerating
Backbone Equipment
Fiber
IPTV
Mvnos
Smartphones
Videoconferencing Equipment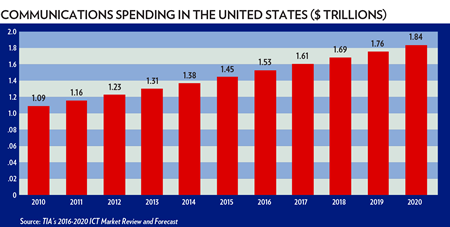 Steady State Markets – Markets growing at steady moderate rates
Access Equipment
Audioconferencing Service Bureaus
Contact Centers
Data Center Construction
Fixed Broadband
Internetworking Equipment
IP VPN Services
Macro Cell Sites
Support Services
Unified Communications
Web Conferencing
Wireless Equipment
Wireless Services Spending
Wireless Subscribers
Legacy Technologies – Markets in long-term decline
Circuit-Switched Landlines
Consumer Telecommunications Equipment
Leased Lines
PBX/KTS
Standard Wireless Handsets
TDM Networks
Videoconferencing Public Room Services
Voice Messaging Equipment